ACNS – Women in Neurosurgery Chapter "BEST ABSTRACT AWARD" WFNS Special World Congress, 2019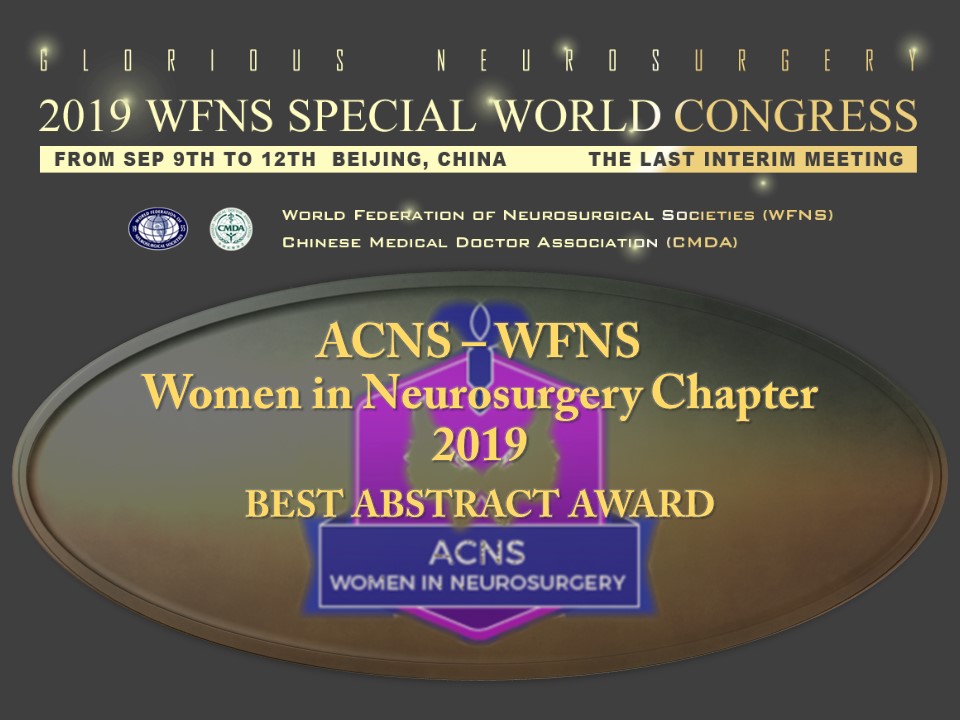 The ACNS-WINS Chapter announces Special Abstract Award at the World Federation of Neurosurgical Societies (WFNS) Special World Congress from September 9 - 12, 2019 in Beijing, China 
Abstract Terms and Conditions:
The content of the submitted abstracts must be original internationally and domestically unpublished papers or scientific research results of which have not been read out and exchanged in similar academic meetings before the congress.
The abstract should be structured under the following headings: Objective, Materials and methods, Results and Conclusions.
The number of words should be limited to 250.
Please specify the presenting author and all co-authors when submitting.
The author should also submit about the benefits of receiving this award in less than 250 words which carries weightage in the selection process of the award.
The award winners should present the talk during the ACNS – WFNS Women in Neurosurgery Symposium.
The best abstract will be awarded with prize money during the Symposium.
The abstract should be different from the abstract (if any) that has been submitted for the main WFNS 2019 meeting
Author's qualifications:
The presenting author should be a female resident or a young female neurosurgeon of age less than 40 years.
The presenting author should have contributed significantly in the paper being submitted.
The author should come from a developing country. For the details of developing countries kindly check the WFNS website: http://static.medmeeting.org/Upload/user/1492222/file/20190318/201903181...
Checklist for the submission:
Abstract in Microsoft word format
Letter on benefits of receiving the award
Age proof (Passport Copy)
A short CV
In case of resident a Letter from the Chairman of the Department stating the role of the resident in the submitted paper should also be provided.
Submission of Abstract:
The abstract should be emailed to: educationcommitteewins.acns@gmail.com
The last date of abstract submission is 31st May 2019
The announcement of award paper will be notified by July 2019